---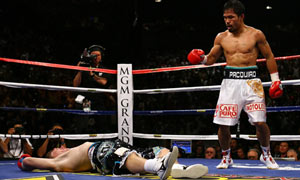 I was envious of my co-workers who were assigned at a client's site in Masbate the first time the Pacquiao-Hatton bout was announced. I was sure they would have Directv Service at site, as they usually did during any major sports event. And I was not mistaken. It was funny even, the way some of them walked into the mess hall where everyone was gathered in front of the widest screen on site, realizing that the game was over in two rounds.
Being in camp has its advantages and disadvantages. When we're there we are not allowed to leave the camp until it's time to board the shuttle for the trip back to Manila. We wear safety shoes in the designated areas, which means at least half a kilo of additional weight on each foot when you trudge up and down the hills. But the food at the mess hall is great, and you eat with Direct TV on a huge screen right in front of you.
It wasn't my turn to go on site at that time, and I was telling myself sayang, of all the times when I could have gone, this would have been the best. My job when on site was to give computer tutorials to new, computer-uninitiated hires, as well as to sponsored schools who were recipients of brand new computer donations. It's very rewarding work in terms of fulfillment, and the sweet benefits on the side (European style food, large helpings, a posh gym, Direct TV Service and best of all, fresh air) make up for all the hard work in preparation and during the tutorials themselves.
I was at the DiPP EB when I heard the news. The Pacman downed the Hitman in round two.
I am really sorry, Manny, for thinking that you needed 5 or 6 rounds to dispatch the Hitman, when all you needed was 2.
Mabuhay ka, Manny Pacqiuao!
Photo from http://static.guim.co.uk/sys-images/Football/Pix/pictures/2009/5/3/1241323510937/Manny-Pacquiao-v-Ricky-Ha-002.jpg.